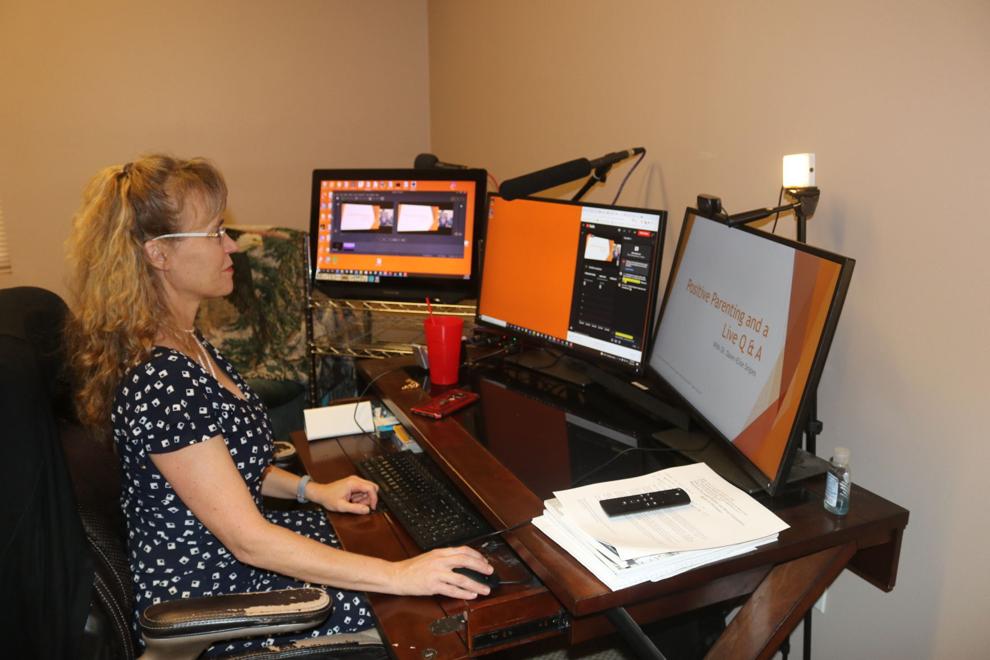 A Lebanon-based clinical psychotherapist, Dr. Dawn-Elise Snipes has just crossed a major milestone on her YouTube channel, 100,000 subscribers, but that may just be the tip of the iceberg.
Snipes describes herself as a disruptor, someone who's helped turn the continuing education industry for counselors, social workers, nurses and case managers into a system that opens doors instead of putting up barriers.
Snipes provides a service to counselors and others seeking information about mental health research. Her YouTube channel is called AllCEUs Counseling Education and offers free in-depth integrative video lectures for health and behavioral health professionals as well as the general public to learn about mental health issues and the mind-body connection.
For Snipes, the calling stems from what she sees as an "ethical responsibility," to ensure affordable, effective and free education materials for clinicians and to enhance the health and mental health literacy of the general public. She identified this need after observing a noticeable lack of content that translated research to practical useful tools for enhancing mental health and addressing issues like addiction, depression, anxiety and trauma, she said.
She gave an example about how someone can read a book on how to tune up a car, but taking that consumed content and applying it to the actual car isn't so easy.
Snipes said for her, helping anybody access that kind of information is what drives her. "I really feel a passion to make sure anybody had access to it in an understandable way."
She said she regularly gets comments like "I wish I had known this years ago," and "Thank you so much. What I have been experiencing makes so much more sense now."
According to the counselor, getting CEUs has historically been pretty expensive. Her service has disrupted that trend and the industry by slashing costs for students.
Although she does have a large contingency of subscribers who are interested in learning about the topics of the lectures, her channel's biggest group comes from those seeking to gain the credits needed for a continuing education program. She said this group comprises about 60-70% of her subscribers.
While Snipes' main focus is running the YouTube channel, she does still make time for a small caseload of patients. "It's another one of my ethical things," she said. "If I'm going to teach something I need to have actually implemented it myself."
Path to 100K
Although she's had the channel for a decade, she's seen large jumps in subscribers over just the past three years. She said Thursday that she had resisted turning on ads on the service. "I didn't want to bother my viewers. I wanted them to have a clean experience. Eventually my partner convinced me to try it."
"As soon as we turned on ad monetization about 3 years ago, we went from not much of anything to 100,000 followers. In hindsight, this makes sense, because YouTube is going to be more likely to promote videos that make them money, rather than cost them money."
That uptick has happened "exponentially," according to Snipes, who feels like that will only continue.
"The YouTube algorithms seem to give you a lot more love once you hit the 100K mark. We are expecting to hit 500K probably in the next two years."
Snipes said her current reach is particularly strong in the U.S., Germany, South Africa, India, Australia and Canada.
"We also have a really strong foothold in Alaska, which I think is really cool.," she said. Without abundant resources for mental health counselor education in the Last Frontier State, some have had a hard time getting proper training.
"We have been able to work with them and tailor culturally competent services to Alaskan natives."
Identifying and targeting windows of need like this is probably one of the things that has propelled her to such success.
Problems facing
people today
Although every person faces their own individual challenges in different ways, Snipes said one of the largest issues facing people, particularly adolescents, today is anxiety.
Anxiety comes in many different forms, and can manifest itself across a spectrum of symptoms.
"For some people, anxiety affects them somatically. Some get upset stomachs, experience gastro-intestinal disturbances, or have difficulty sleeping. Others get irritable, agitated, some people experience feelings of depression."
One such type of anxiety is abandonment anxiety. This is experienced by people in relationships who are afraid the other person might leave. According to Snipes, it usually occurs after someone has experienced trauma.
"It makes it hard to be in relationships because they don't trust the other person is gonna be around for a long time," she said.
Snipes also said that this was hardly something brought on exclusively by COVID-19.
"Even before the pandemic, we were seeing much higher rates of anxiety among adolescents.
"Adolescence is a time of individuation, figuring out who they are. There are almost too many options now. And people are getting overwhelmed."
"Before the internet, we often chose to exert more effort into maintaining relationships," she said.
"Due to an abundance of options these days, people are more likely to cut bait at the first sign of distress leading the other person to experience a sense of abandonment."
Snipes cited "ghosting," as a phenomenon which didn't really happen before the advent of the internet.
"As soon as there seems to be any boredom or disconnect in a relationship, people are more inclined to say 'ehh,' there's other people out there."
This can have a lot of negative repercussions, Snipes said and it comes from a lack of skills for how to deal with conflict.
She hopes that her channel can provide a little direction for viewers.
Channel perks
and offerings
Her live stream session Thursday was about positive parenting and featured a Q and A portion, which differs from her typical programs. She wanted to make an interactive component to the channel, so she offers this once a week.
She said the way she constructs these streams is to have a topic of discussion, which she briefs viewers on, before taking the questions from the floor.
Snipes discussed a little about positive parenting prior to the stream.
"It's about creating a nurturing parenting strategy.
"It's not just saying everything is fine, you're wonderful and everything you do is perfect. Its kind of the opposite. It's about creating a safe and nurturing environment in which the caregiver can provide constructive feedback about behaviors," she said.
Doing so will increase the child's sense of self esteem. "When something happens, we teach them to separate the action from the person. For example, Johnny is not a bad boy. Johnny is a good boy who made a choice."